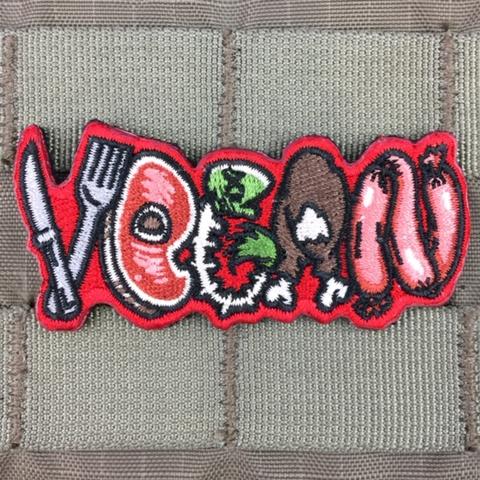 Carnivorous Vegan Morale Patch
They say being vegan is better for the Earth. But if you can't eat a juicy ass steak a few times a week, what's even the point of being on this earth? Sure to draw the ire of your vegetarian friends and calls of your "incorrigibleness".

1.2" x 3", Embroidered
Hook  Backed

Vegan, but spelled with various meats. Ha!
Beautiful patch
This patch was on backorder when I ordered it but I promptly received it within a week! Highly detailed, vibrant and beautiful patch for our Dobie's K9 tactical harness. Love counter-trolling the vegan stand at the local farmer's market that has a banner trolling meat eaters.
Too good of a job!
I only wish it was possible to stich rip the velcro off the back of the patch so it could be sewn on to my jacket permanently.
---
We Also Recommend