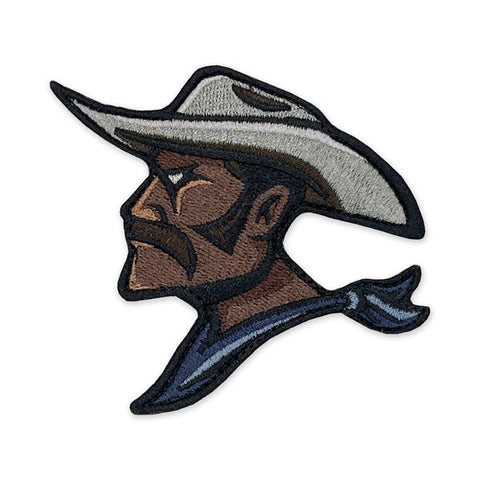 PDW Bass Reeves Blue Morale Patch
To commemorate the new TV series Lawmen: Bass Reeves, we've reissued this morale patch design with a blue bandana. Bass Reeves was a deputy US Marshal from 1875 to 1907. During his career made over 3000 arrests of felons and killed 14 bad guys in self defense. He sometimes rode with a Native American partner and together their exploits were the inspiration for the Lone Ranger.
This morale patch is in honor of an American cowboy legend. Bass Reeves was born into slavery in 1838, was forced to served on the Confederate side in the Civil War along with his owner until he escaped to freedom, living with and learning the languages of the Cherokee, Creeks and Seminoles. He became a freeman by the Thirteenth Amendment's abolishment of slavery in 1865. As a deputy US Marshal, Reeves brought in some of the most dangerous fugitives of the time; he was never wounded despite having his hat and belt shot off on separate occasions. In addition to being a marksman with a rifle and revolver, Reeves developed superior detective skills during his long career.
SPECIFICATIONS:
Height: 3.00"
Fully Embroidered Polyester Thread on Canvas Backing
Hook Backing with Cover
---
We Also Recommend